TOBY'S SILLY TALES

Feb 25, March 4 & 17
-and make a puppet after the show to take home.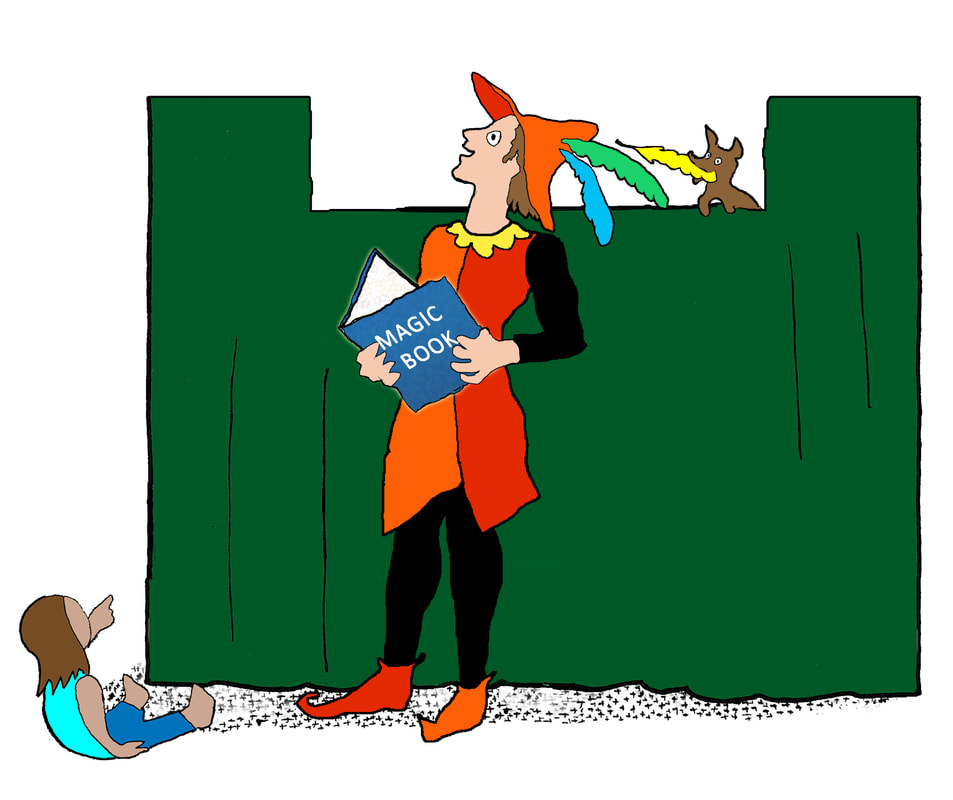 Mother Goose's silly little dog Toby is back and this time he has taken over the show. He writes, directs and acts in his favorite stories.
​
With participation, fun and games for young audiences.

"Warm, friendly atmosphere for the beguiling presentation."
-Gannet Newspapers

"Each story is kept short, the plot line clear and simple and the characterizations vivid. The shows are warm, touching and funny, but the humor is never heavy handed. It respects the children's intelligence."
-Westchester Weekend


---
---

CELEBRATING 40 YEARS IN THE WEST VILLAGE

"Charming."
-New York Times

"Very simple, and perfect as an introduction to theatre."
-New York Magazine

"Warm, funny, direct and charming." -Gannet Newspapers

"A relief from all that commercialism" - A parent after the show


WESTBETH Home to the Arts
155 BANK STREET

between West and Washington Street in the West Village



Tickets are $10 for all ages
Show Times: 11 AM & 2:30 PM All Ages - Great for 2 to 8
Stroller Parking
Shows Run about 45 MinutesInformation: (212) 924-0525pennypuppets.org
---
BIRTHDAY?
​HAVE A FUN AND AFFORDABLE PARTY IN OUR SPACE AFTER THE SHOW.
​
WE HAVE A KITCHEN AND TABLES FOR YOUR TREATS AND PUPPETS FOR THE KIDS TO PLAY WITH.

Or we can come to anyplace you wish.
CONTACT US FOR DETAILS.
2017-18 Repertory Schedule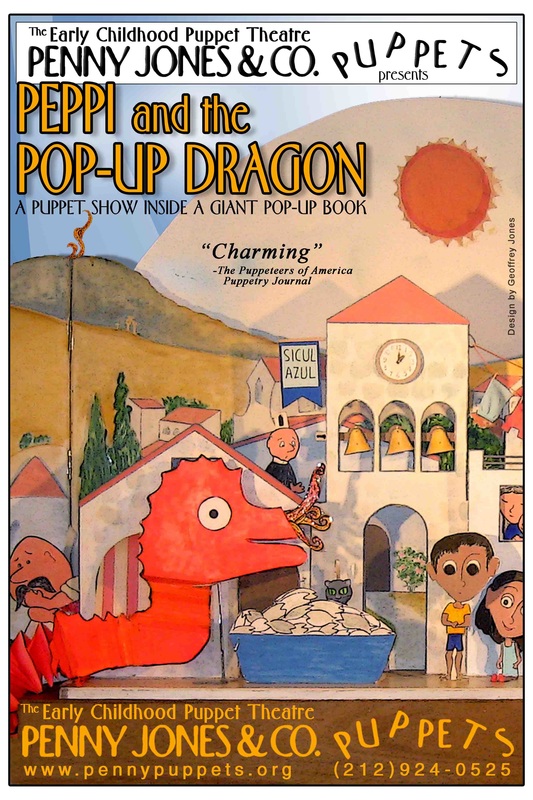 OCTOBER 28
​
Peppi and the Pop-Up Dragon
​A puppet show inside a giant 12-foot pop-up book

The audience creates the sound effects.
The sun rises and sets over a happy fishing village with bells that ring, babies that are rocked and boats that go out to sea. But the town is threatened by the pop-up dragon from the Blue Mountain. How will Peppi save the day?

" The townspeople were alarmed. How would they survive? (talk about problem solving and cooperation!) They solved the problem, but you'd have to see this remarkable show to find out how. What a pleasurable experience. All I heard after this performance was "How charming!"
-Puppet Master, Puppetry Guild of Greater New York

Premiered at the Henson International Festival at the Public Theater


"It succinctly reminded me of what a wealth of resources we have in children's theatre….charming"
-Puppeteers of America Puppetry Journal
---
---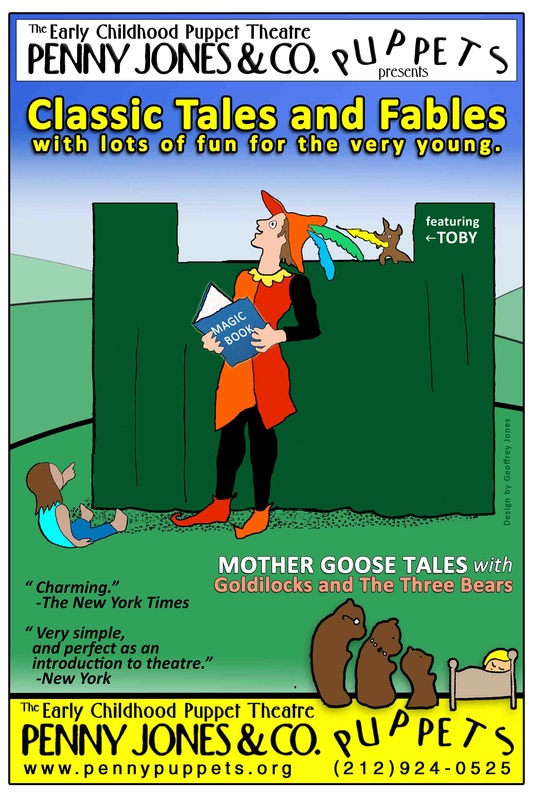 NOVEMBER 5 & 19

Mother Goose Tales
​with Goldilocks and The Three Bears

Classic Tales and Fables. The Three Bears,The Three Bill Goats Gruff, the Gingerbread Man. and is an excellent introduction to the theatre for very young children. With lots of participation, fun and games, and Mother Goose Rhymes. A hit for generations. ​with Jack the Pied Piper and that silly little dog Toby.

"Very simple, and perfect as an introduction to theatre."
-New York

"Warm, funny, direct and charming." -Gannet Newspapers
---
---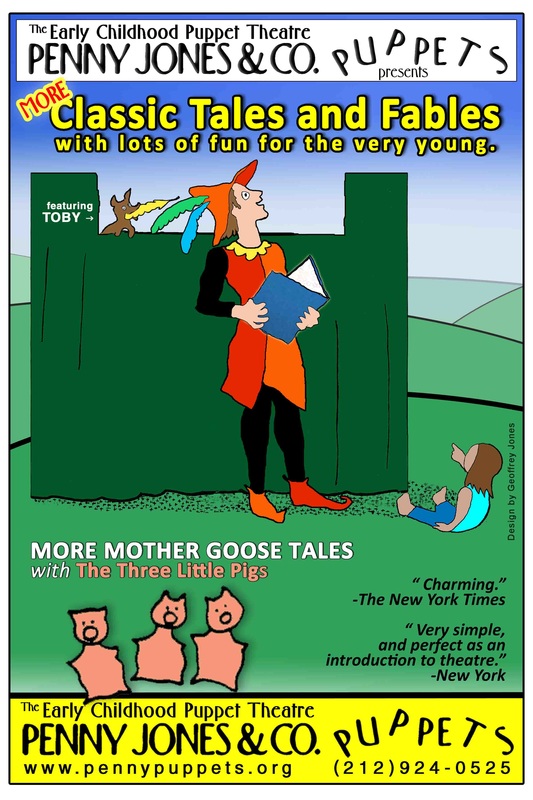 DECEMBER 3 & 17 and JANUARY 7


More
​Mother Goose Tales
​with THE THREE LITTLE PIGS

​Toby returns with more fun for the very young and more tales including Three Little Pigs and the story of Boswell, the Polar Bear (who happens to drift south on his iceberg to chance upon friendly southern animals before he is blown back to the North Pole).
With participation, fun and games for young audiences.

"I like it that such care went into the making of these shows.I was struck by the fullness of detail and the surprising elaborateness of the sets. The three little pigs really looked piggy for a change, with pink, rotund bodies and the right shaped ears and snouts." -Village Voice

"Warm, friendly atmosphere for the beguiling presentation."
-Gannet Newspapers
---
---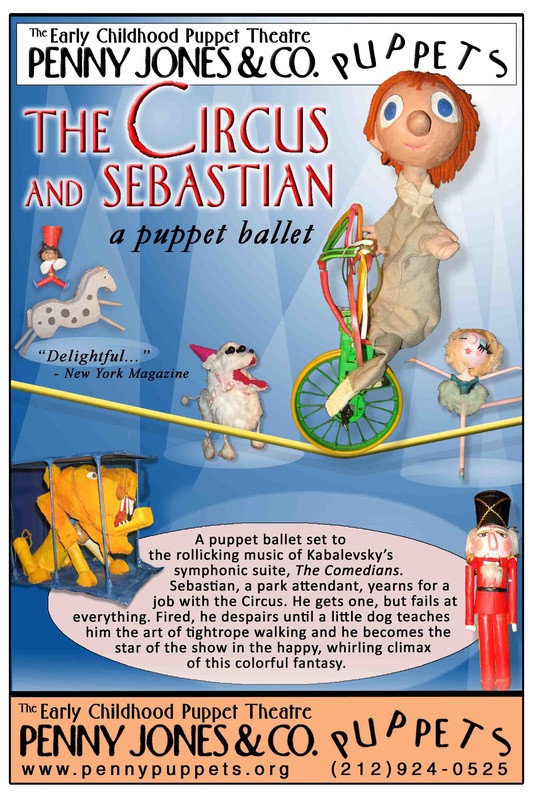 JANUARY 20 FEBRUARY 3


The Circus and Sebastian

A puppet ballet to the rollicking music of Kabalevsky's symphonic suite, The Comedians. Sebastian, a park attendant, yearns for a job with the Circus. But the lion roars at him, the horse throws him, the elephant sits on him and the ballerina snubs him. He is fired and despairs until a circus dog teaches him the art of tightrope waking.

"An utterly charming and exquisite show. The puppets are glorious" -Gannet Newspapers

"Delightful "
– New York

​"It's a charmer"
- WNYC
---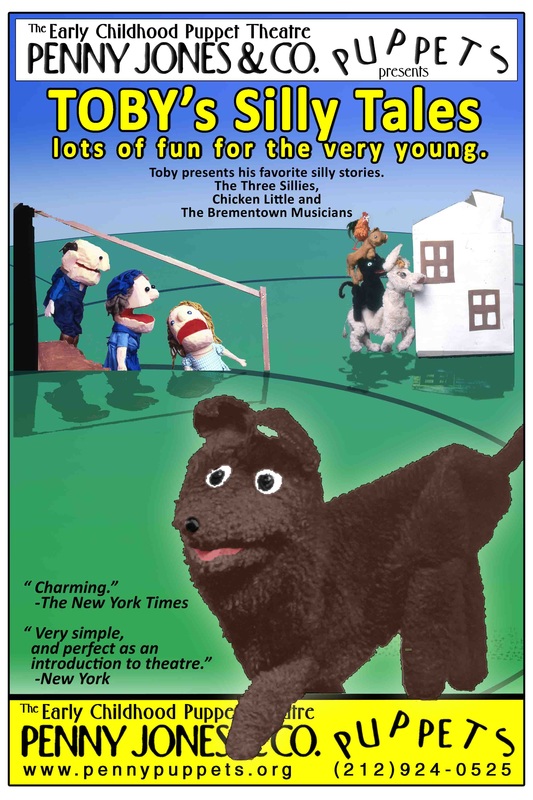 FEBRUARY

TOBY's Silly Tales


Mother Goose's silly little dog Toby is back and this time he has taken over the show. He writes, directs and acts in his favorite stories. The Three Sillies, Chicken Little and The Brementown Musicians.
With participation, fun and games for young audiences. "I like it that such care went into the making of these shows.I was struck by the fullness of detail and the suprising elaborateness of the sets. The three little pigs really looked piggy for a change, with pink, rotund bodies and the right shaped ears and snouts." -Village Voice

"Warm, friendly atmosphere for the beguiling presentation."
-Gannet Newspapers

"Each story is kept short, the plot line clear and simple and the characterizations vivid. The shows are warm, touching and funny, but the humor is never heavy handed. It respects the children's intelligence."
-Westchester Weekend


---
---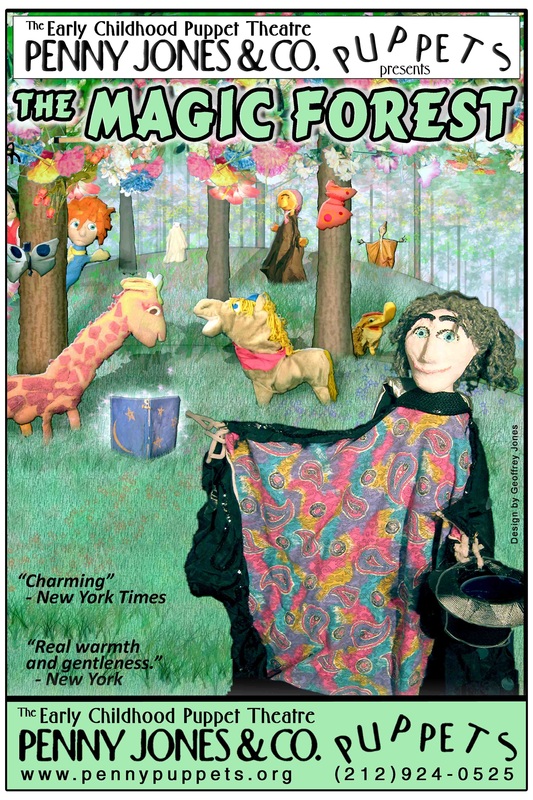 MARCH and APRIL

The Magic Forest

Fun and funny things happen in the Magic Forest. There's lots of participation and fun.
Every child helps with the magic ingredients and raises a flower. The magical result is the creation of Spring -with a lot of help from the audience.

"A knack for finding lesser known stories and distilling them to suit the tastes of the very young fans and keep them fascinated with low-key make-believe..The puppets are charming, the 45 min. program never overexcites the audience, although there's lots of time for participation."
-The New York Times

"An unpretentious puppet play with real warmth and gentleness. Its success with young audiences is due to the charm and honesty of the presentation they feel from first to last." -New York

---
---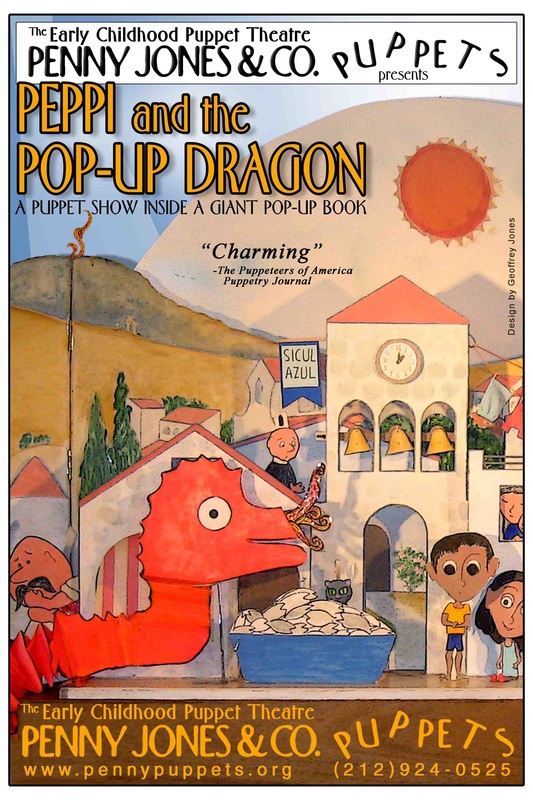 MAY

​with a mini workshop after the show
​
Peppi and the Pop-Up Dragon
​A puppet show inside a giant 12-foot pop-up book

The audience creates the sound effects.
The sun rises and sets over a happy fishing village with bells that ring, babies that are rocked and boats that go out to sea. But the town is threatened by the pop-up dragon from the Blue Mountain. How will Peppi save the day?

" The townspeople were alarmed. How would they survive? (talk about problem solving and cooperation!) They solved the problem, but you'd have to see this remarkable show to find out how. What a pleasurable experience. All I heard after this performance was "How charming!"
-Puppet Master, Puppetry Guild of Greater New York

Premiered at the Henson International Festival at the Public Theater


"It succinctly reminded me of what a wealth of resources we have in children's theatre….charming"
-Puppeteers of America Puppetry Journal
---